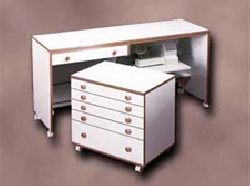 The Quilters Dream Storage Chest by Horn is a beautifully crafted storage cabinet for your quilting arsenal.
Store your supplies in one of the 4 shallow drawers and the additional deep drawer, built on nylon rollers with stops. The Dream Storage Chest has a melamine mar resistant surface and sturdy steel to steel connectors. Not only can you fit all of your quilt supplies, it'll fit under the drawer of your 3180 Quilter's Dream cabinet.
This chest of drawers also has an optional thread tray and an optional insert is available. The insert custom fits around your sewing machine and is flush with the table surface. Enjoy the lifetime warranty, too!
Dimensions:
Width: 26″
Depth: 17-3/4″
Height: 24-1/4″
Weight: 85 lbs.
Contact us for additional details. Only available in store.