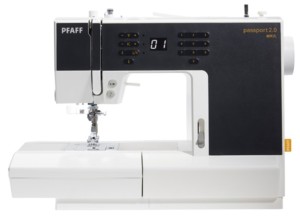 Whether you are seeking a sewing machine for a small space or one perfectly designed for travel and classes – this is it! Whatever the journey, your PFAFF® passport™ sewing machine is ready.
Are you?
With best-in-class features and reliable stitch results, we are confident that the PFAFF® passport™ 2.0 sewing machine will exceed your expectations for a lightweight, compact sewing machine. What are you waiting for? Get ready to explore a new sewing companion packed with PFAFF® features.
Features & Benefits
1 Compact/Portable Sewing Machine
Perfect for taking to classes and for travel (lightweight: 13.9 lbs/ 6.3 kg).
2 The Original IDT™ System
Integrated Dual Feed only from PFAFF® for over 40 years! Absolutely even fabric feed from both the top and bottom.
3 PFAFF® Original Presser Foot System
Many optional accessories are available to expand the sewing experience.
4 70 Stitches
A wide variety of beautiful 7 mm stitches, including utility stitches, buttonholes, decorative stitches, quilt stitches, needle art stitches and satin stitches.
5 Beautiful Applique Pin Stitch
Adjustable; easy to achieve your desired result.