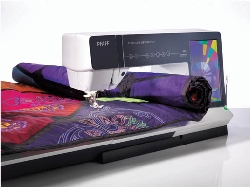 Details about the Creative Sensation Sewing Machine
Creative Touch Screen is huge and clear! (38% Larger than Vision)
ActivStitch Technology – Delivers precise stitches on a wide variety of fabrics even with challenging novelty threads (metallic). Sensors measure the fabric thickness to regulate the amount of thread needed to achieve perfect balance between the needle and bobbin threads.
Original IDT with optimized feeding for thick layers and small piecing.
Shape Creator including Applique feature. Combine decorative stitches or design elements instantly to create truly unique borders and designs. Shape Creator Applique features reinvents how to create appliques with speed and precision. Choose from a variety of distinctive shapes-all built in, like stars, flowers and letters.
Stacking Stitches – Sew beautiful decorative stitches in two colors. The stacking stitches consist of pairs of stitches that are designed to be sewn on top of each other!
Machine includes a single hole plate that recognizes when installed. Automatically turns on stitch width safety.