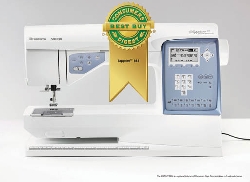 Husqvarna Viking Sapphire 835 Sewing Machine wins Consumer Best Buy Award. The Sapphire features a 10 inch throat, Sewing Advisor, needle threader and automatic pressure foot lift.
The Sapphire™ 835 is the only model that is in this price range that automatically selects the best stitch and sewing speed for the fabric type that you indicate. It even recommends what foot attachment and needle size and type to use with that fabric.
Features
Stitch options: 105
Needle positions: 29
Buttonhole options: 7
Warranty: 20-yr. mechanical; 5-yr. electronics; 1-yr. labor
Capability
The extended sewing surface gives you more room for quilts and
other large projects.
The large GraphicDisplay shows the selected stitch in actual size
and other settings.
Dual Lights illuminate the sewing surface to make sewing easy
and eliminate eye strain.
Convenience
The unique EXCLUSIVE SENSOR SYSTEM™ technology senses your
fabric thickness for a perfect, even feed.
The exclusive SEWING ADVISOR® feature optimizes your sewing.
Innovation
More than 100 stunning stitches inspires endless creativity.