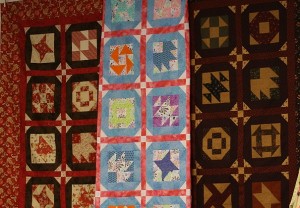 This might look like a confused quilt, but it is actually 3 different versions of our upcoming Buck-A-Block quilt.
You may choose one of these 3 colorways:

Dark Chocolate Cherry

Kansas Troubles

Lollipop
Here's how it works:
Register now for your Buck-a-Block colorway
Buy one package of Thangles, then…
In June (after the 10th), come by and pay $1 for your first package. Each month's package contains 2 strips of fabric and the instructions for 2 blocks.
In July (after the 10th), bring your first 2 blocks in and show us, and pick up your second package for $1
And, so on, through May 2013.
A couple of notes:
You will receive setting instructions in June with your first package.
Your packages will include the fabric to make the 24 blocks, but do not include the fabric for the setting shown in the picture at the top.
If you do not bring in the blocks from the previous month, you will need to pay $3 for your next package.
Stop by the shop and reserve your colorway today!