Sew-ciety is once again thrilled to host Simon Haskins, who today taught 22 lucky quilters his own design, the Heart Applique Table Runner.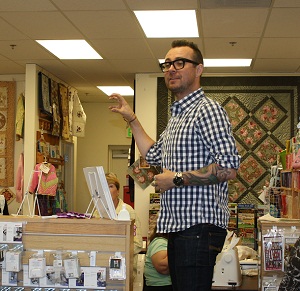 Demonstrating many new techniques, including Krinkle Magic applique and use of trim to create braided fabric for applique, Simon has a fun style and great tips for machine embroidery.
We had a great group of our local quilters that was supplemented by guests from all over the central United States, including (North to South) Alice & Claire from Casper, WY, Karen from Scotts Bluff, NE, Rosie from Dallas, TX, Kay & Dianah from Las Cruces, NM, and Sherry from Houston, TX. Thanks for joining us, ladies!